In rural areas, learning groups and mini-library run by locals must be so meaningful for the community, especially for the kids that have obstacles to access books. The education that has been given by Titian makes some alumni move to continue spreading the goodness. In Gunungkidul, Kiky Nuranisya from the 8th Generation of Titian has her effort to educate the kids living in her community and she named the learning group 'Taman Ceria' which means 'Cheerful Garden'. Cooperating with the youngsters that could give their spare time and knowledge to the kids, Kiky utilizes space in her house to make a mini learning centre for the kids to read some books. "I want to improve the education of my community. In my surroundings, the ones that studied in the university were only me and one of my friends."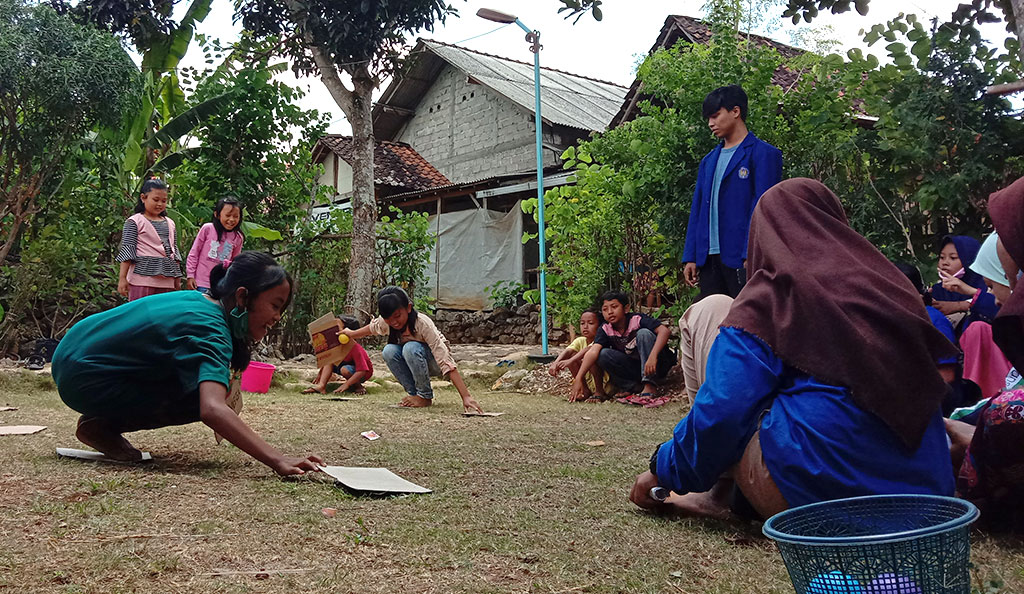 Taman Ceria started activities on the second day of the month of Ramadan on April 24, 2020, to be precise, however, the name Taman Ceria was agreed upon by Kiky and her friends on May 2, 2020. Kiky is a scholarship recipient of Titian Generation 8. It has been Kiky's dream for a long time. Kiky sees this pandemic situation has brought her 'bless' since Kiky has a lot of free time—everything is done online so that most of Kiky's activities are carried out at home. Taman Ceria is located at Kiky's house which is located at Banaran V, Playen, Gunungkidul. The activities at Taman Ceria were attended by pre-school children and junior high school adolescents. Usually, children who are still in early childhood are accompanied by their respective mothers during the activities. Taman Ceria volunteers, 'Sahabat Ceria' (in Indonesian, 'sahabat ceria' means 'cheerful friends') are junior high school students as one of Kiky's efforts to break the chain of the Youth Organization's absence in Kiky's area. Some of the activities carried out by Taman Ceria are cycling together around the village, making useful crafts from used goods, as well as cleaning the environment.
For her, Titian played such a big role that Kiky dared to create Taman Ceria, build a basecamp, and get some books for the Taman Ceria collection. Without Titian, Kiky might not have come this far. It all started by Kiky joining Titian when Kiky saw CLC Titian Bayat for the first time—Kiky was completely in awe when she saw the toys, the nice collection of books, musical instruments, sewing machines, as well as the garden and the CLC's building design. Kiky wished that if there was something like Titian in the area where she lived, many children would be able to play and study, therefore Kiky wanted to be able to create a place for the children to play and learn. Kiky is often mingled in the world of children by joining children forums, from the village to the provincial level, so Kiky was so enthusiastic to be able to minimize social problems that occur in the home environment.
Many things in Titian have inspired Kiky, for example, Kiky's plan to build a gazebo, carry out extra activities such as guitar lessons, piano lessons, English Mastery, as well as parenting activities. She also hopes that Titian can become a companion for Taman Ceria. Kiky thought that social problems in her community could not wait for Kiky to graduate, so he finally started and took action at that time. "If you are sad, make other people happy then your sadness will disappear along with laughter from other people. There is no need to hesitate to do good, if we cultivate kindness, we will reap goodness and happiness without even thinking," said Kiky.
Nisa'u Fadiyah from Generation 5 Titian Bayat built a small library which she called Perpustakaan Candu or Perpus Candu (In Indonesian, 'perpustakaan' means library and 'candu' means 'addictive') which is located in Bodrorejo, Trucuk, Klaten. Just like Kiky, she built the library at her house and now she manages it together with her sibling. Perpus Candu has been present since May 2019. Even though it is still new, some Sahabat Candu (the name for the ones who help to run Candu Library) provided some support, thus making Nisa'u more eager to develop the library. "Previously, I worked at Titian Tangsel. When I returned to Klaten, I chatted with children and teenagers around my house. From the beginning, my house has always been full of children because my family loves children. When I was on the train from Jakarta to Klaten, I thought of the children, teenagers, and parents in the area around me who had very limited knowledge and had very little grit and passion to achieve their dreams. They still stick to a 'simple' lifestyle and a 'study moderately'. I compared it to life in Jakarta; if we don't try our best, we may not be able to eat, which is the opposite of life in the village.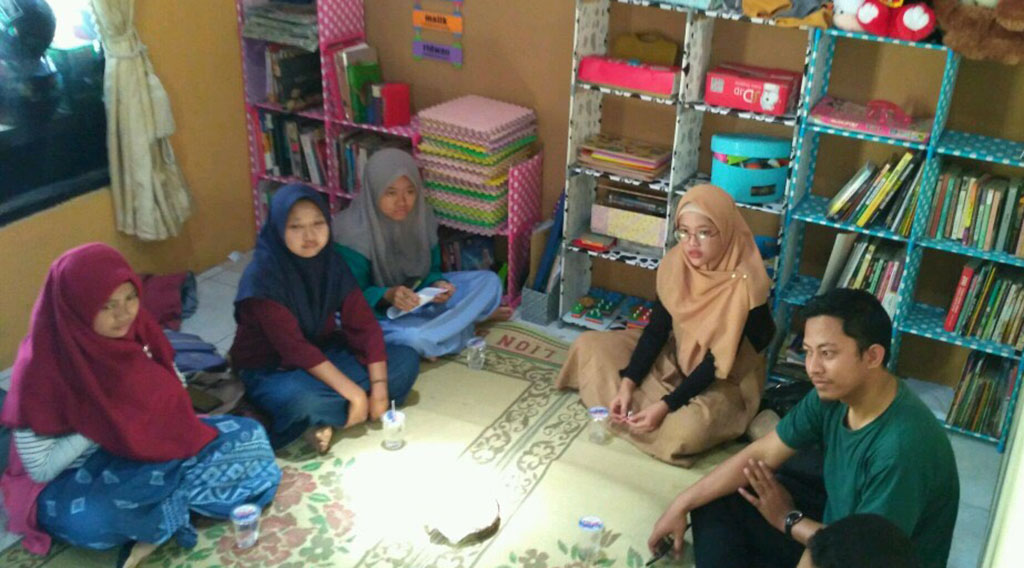 "Therefore, I decided to resign from Titian Tangsel to build my village. After explaining my wish, Titian was very supportive and transferred my duty to Titian Bayat, Klaten, so that I could start creating Perpus Candu while I was still working. Perpus Candu was formed when I took out all the books on my shelf, then I started buying bookshelves," Nisa'u explained. She admits that social media was very influential for Perpus Candu's existence because by sharing activities through photos and videos, Sahabat Candu was informed to contribute by donating various kinds of books, toys, and stationery. There are lots of Sahabat Candu who help to fill out activities as volunteers. Perpus Candu visitors are mostly children who have not gone to school to high school students.
"During my days off on the weekends, we also make creations such as tie-dye clothes, put trash in bottles to make chairs (eco-bricks), and also vegetable planting. Titian inspires Perpus Candu—I learned all programmes at Titian and I apply it at Perpus Candu, for example, children are only allowed to color the coloring books when they read storybooks and tell the story back to their friends. So, almost all elementary school children have read most of the books because they share them," Nisa'u explained. Apart from that, Nisa'u felt that Titian is also very open in providing various kinds and suggestions for various programs at the Perpus Candu. Just like its name, 'candu', Nisa'u expects the children to get 'addicted' to reading, being nature-lovers, and socializing with new friends so that they can reduce the use of smartphones.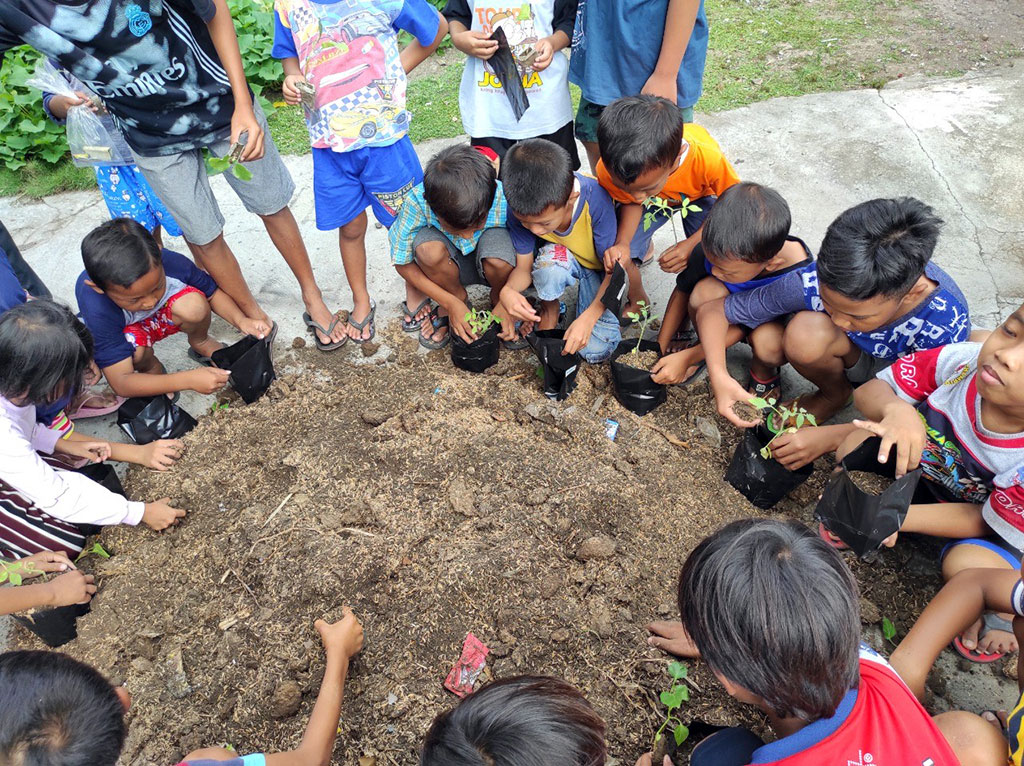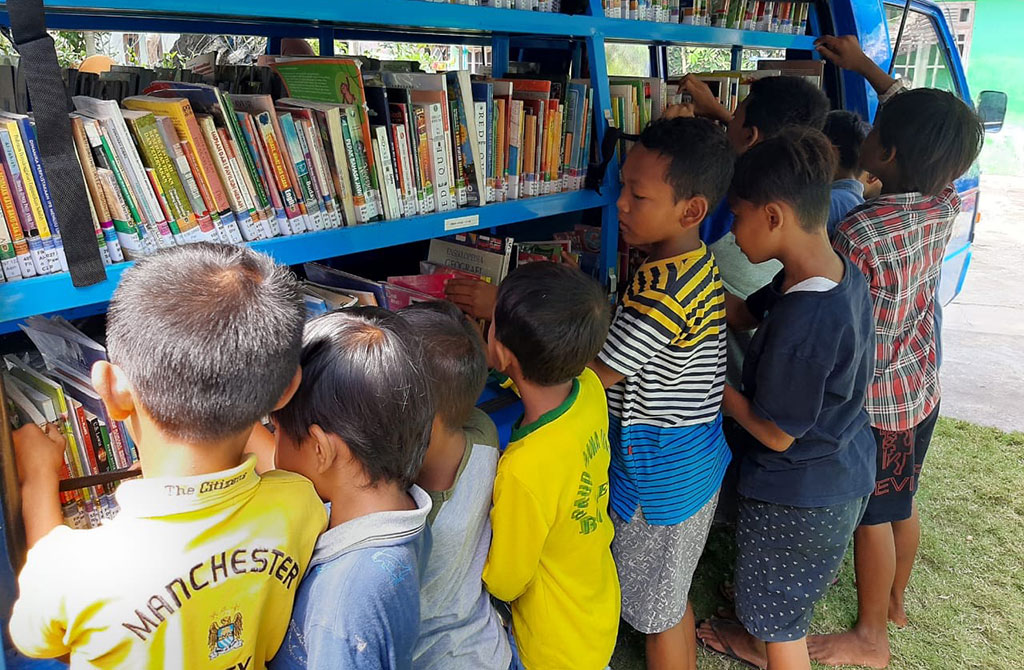 Another figure who gets inspiration from Titian is Irkham Zamzuri. Irkham is known as the English teacher of English Mastery (EM) Programme at Titian Bayat. Since the end of 2018, Irkham has learned a lot while joining and observing how Titian works. He had already been interested in education for quite a long time. Irkham also organizes a study group at his own house which he named 'Kelompok Belajar Anak Ceria' (KBAC). This group has already existed before he joined Titian Bayat to teach. The story begins when Irkham taught his nephews to read and count. Irkham was moved to create a study group. Being involved at Titian has made him pay more attention to the way of mentoring and the model of activities carried out in KBAC. "Both I and Titian have the same point of view. It's 'tit for tat'," he said.
His determination is serious—Irkham moved the members of the Youth Organization in his neighborhood to assist the children at the study group location. Then, he collaborated with the Klaten Regency Library Service, which had brought in a mobile library. According to Irkham, Titian inspired him especially on inclusiveness towards children. "Activities at Titian are very child-friendly. That's what I want to bring back home."
Note: All of the images above were taken before the COVID-19 pandemic.